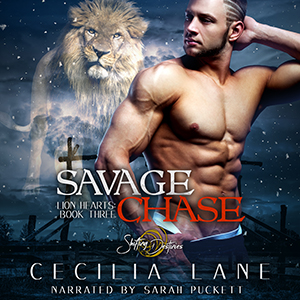 Savage Chase Audio
He's determined to tear down the walls around his mate's heart, before an enemy rips out his soul.

Dash
Ruthless fighter, aimless drifter. Falling in love means getting ripped in pieces when everything goes to hell.

Lion shifter Dash can't fight the mating fever forever—or deny his insatiable need for the only woman who soothes his inner roar and makes him purr like a kitten.

But another male is sniffing around his woman. It's time for Dash to prove he's the deadliest hunter in the pride.

No rival will take what is his.

He'll prove to Colette that he's here to claim, here to stay.

Colette
Men are trouble. Mates are worse. Colette avoids anything more serious than a one-night stand like the plague.

But for once in her life she needs help. A vow never to out a shifter to humans is going to cost her everything. Especially when the person she's protecting is giving off stalker vibes.

The only person in her corner is also the only man who tempts her to break her own rules. The man who wants more than her body.

She'll have to trust that a mate bond won't chew her up and spit her out. Dash is the last defense against not just her enemies, but a lifetime of emptiness.

Savage Chase, Lion Hearts Book 3, is a steamy lion shifter romance. This paranormal with bite is for readers who love friends to lovers, women in peril, and growly protective males who purr for only one woman.

Listen now to satisfy your craving for savage on the outside, gooey on the inside alphas. Betcha can't read just one.

PSST! Looking for the ebook or paperback version? FIND THOSE HERE!
Also in this series: