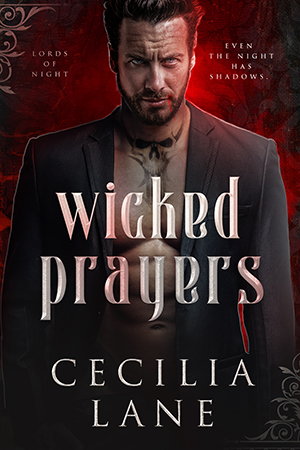 Wicked Prayers
Spymaster. Judge. Executioner. Some vamps can do it all.

There isn't much Poe, the Queen's pet assassin, doesn't have his knives in. That includes investigating the Lord of Salem when he's suspected of harboring a fae halfling. But when Poe gets to town, he meets the enthralling Zora and his priorities shift.

She sings. She enchants. But most of all, she makes him want to spy and seduce at the same time.

No chance of that backfiring.

She's no snitch…
When a dark and mysterious stranger approaches Zora in a bar, she's up for a game of twenty questions… but not if they're about her best friend. But when Poe saves her from an angry slayer she's willing to give him another shot.

Only the slayers are after halflings, and Zora has a surprise in her blood, one that would demand Poe use his knives instead of his sinful touch.

Friends and foes are not who them seem as a growing power threatens to upend the equilibrium of the vampire world. If she and Poe can't stop the slayers in time they'll unleash a power that can't be defeated.

What a perfect time to blood bond a vampire even the shadows fear.
Also in this series: