Garridan's Mate by Rebecca Hefner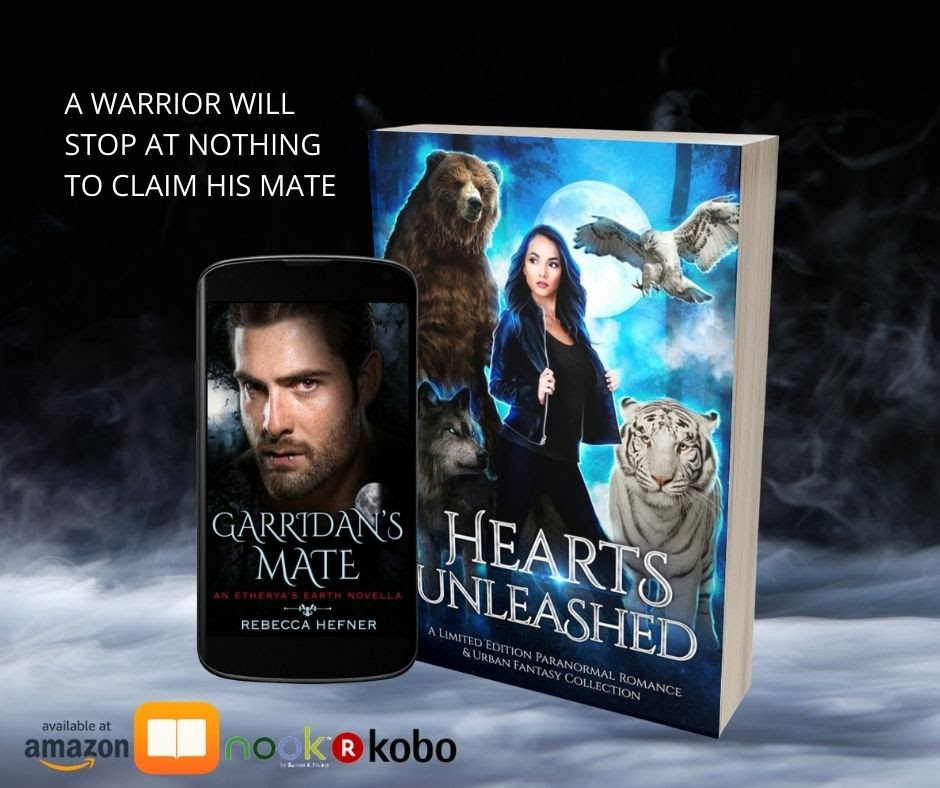 Welcome, Rebecca! Please start off by telling us a little about yourself.
I'm a voracious reader, as most authors are, and had a successful career in corporate America before I left to become an author. I grew up in Western North Carolina but now live right outside New York City. I love karaoke, wine and UNC college basketball, in no particular order!
What genre(s) do you write?
Paranormal and Sci-Fi Time Travel Romance (I also write Contemporary Romance under the pen name Ayla Asher)
How many books have you published?
20 between both pen names
What can a reader expect when picking up one of your books for the first time?
I really like to create fantasy worlds that can whisk a reader away for a few hours. I make up a lot of character names and locations in my books, which is really fun! Since I'm a huge JR Ward fan, I write a lot about vampires, as well as demons, sorcerers, goddesses and other mythical creatures. Also, I love steamy stories, so you'll always find some pretty intimate scenes in my books.
What were your inspirations for the story?
For Garridan's Mate, I was inspired to write a love story between a general and his soldier. Garridan is tough on Siora because he sees her true potential but she sometimes thinks he's just being an ass. Neither of them can deny their attraction and when they finally get together, it's explosive!
Please share your setting for Garridan's Mate. Have you ever lived or visited there? If so, what did you like most?
Garridan's Mate is set in my Etheray's Earth world. It's a parallel universe to our own that has many similarities to our Earth–except for the fantasy creatures who live in the Immortal Realm.
How do you research or prepare?
The fun thing about fantasy is that it doesn't take a ton of research. I'd say most of my research comes from reading other fantasy books or watching fantasy movies. I love The Lord of the Rings, Star Wars, and JR Ward's Black Dagger Brotherhood series to name a few.
When did the writing bug first bite?
I've written stories forever but never thought I'd publish them. When self-publishing became more prominent, I began seriously considering leaving my corporate America job and starting my own indie publishing company. That was in 2018 and, now, here we are!
Who are your favorite authors/books/series?
JR Ward – The Black Dagger Brotherhood Nora Roberts – The Circle Trilogy Kit Rocha – The Beyond Series Lisa Kleypas – The Wallflowers Series and the Hathaways
What is your most favorite childhood memory?
I'm a huge science dork and went to Space Camp when I was 14. My love of science inspired me to write my steamy sci-fi time travel romance series (the Prevent the Past series).
Do you have any hobbies or special things you like to do in your spare time?
Wine tastings, karaoke and watching college basketball.
Boxers, briefs, or commando?
Hmmm. Boxer briefs maybe?
Favorite eye color?
Green
What's the strangest thing you've heard or seen?
How about 2020 as a whole? LOL
What were your inspirations for writing?
I just love being whisked away to other fantasy worlds. And, of course, I love happy endings in romance novels.
Do you have a set writing schedule or do you just go with the flow of life and write when you can?
It's so hard to balance writing and all the other things you have to do as an indie author, but I do try to spend several hours per day focused on writing. Sometimes, I even accomplish that goal!
Describe your perfect alpha hero.
Oh, man. I love a reformed anti-hero. Someone who's brash and might seem nefarious at first but who eventually turns to mush when he meets his soulmate. And if he looks like Henry Cavill, even better!
Thanks, Rebecca! Get more paranormal themed stories like Garridan's Mate in Hearts Unleashed, a Limited Edition Paranormal Romance and Urban Fantasy Collection of 20+ NEW heart-pounding supernatural fiction featuring sensual heroes and sassy heroines.
Purchase Garridan's Mate in Hearts Unleashed:
Amazon: https://amzn.to/355Dcal
Universal: https://books2read.com/hearts
Follow Rebecca:
Amazon: https://amzn.to/2N01woz
Bookbub: https://www.bookbub.com/authors/rebecca-hefner 
Twitter: https://twitter.com/rebhefnerauthor 
Website: https://www.rebeccahefner.com/