Shifting Fate by Carrie Pulkinen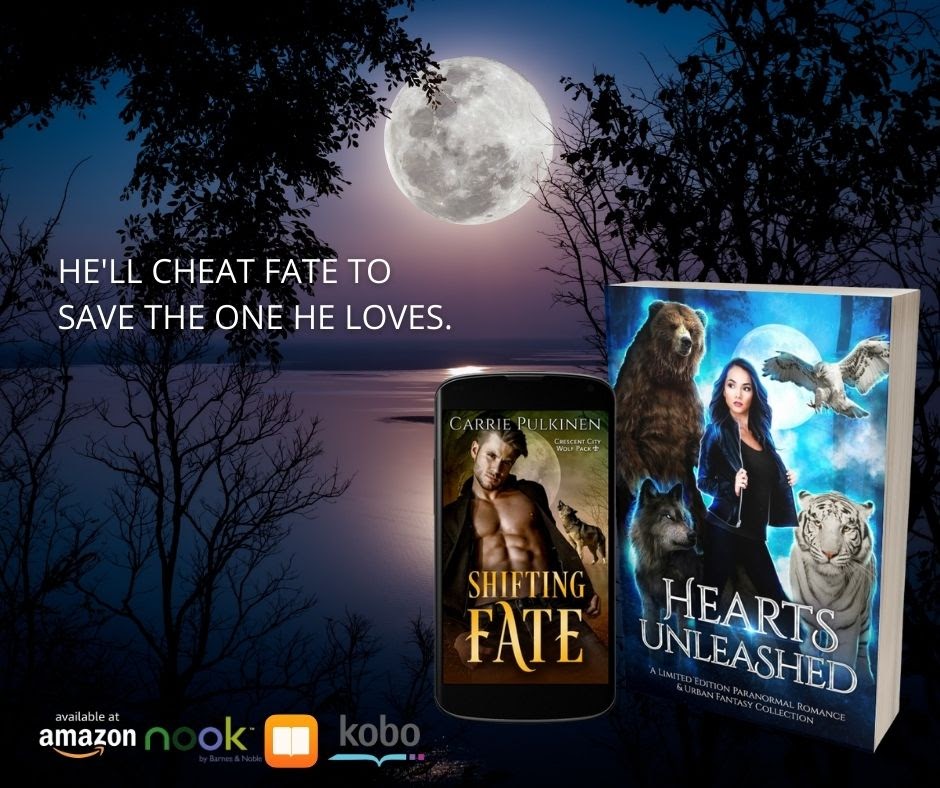 Welcome, Carrie! Please start off by telling us a little about yourself.
I've always been fascinated with things that go bump in the night. I grew up literally next door to a cemetery, so the dead–and the undead–were hard to ignore! Now, I live in Houston, Texas, with my sexy Dutch husband, two beautiful daughters, and two little dogs who are always up to no good.
What genres do you write?
Paranormal romance and paranormal romantic comedy
How many books have you published?
20ish?
What can a reader expect when picking up one of your books for the first time?
Humor, heart, and a man who will do anything for the woman he loves.
What were your inspirations for Shifting Fate?
Shifting Fate is set in my Crescent City Wolf Pack world, and it features Noah, a telekinetic werewolf and Amber, the alpha's sister. The inspiration for this story (and all the books in the series) comes from urban legends and folklore in the New Orleans area.
Please share your setting for Shifting Fate. Have you ever lived or visited there? If so, what did you like most?
Shifting Fate takes place in my absolute favorite city in the world…New Orleans! I have visited there many times, and I adore the food, the music, and the culture. There's never a dull moment in the Big Easy!
How did you research or prepare?
By visiting New Orleans, reading books about the folklore, and talking to locals.
Boxers, brief or commando?
Briefs or boxer-briefs. A like a little extra layer to unwrap before reaching the prize 😉
Favorite eye color?
Hazel
Do you have a set writing schedule or do you just go with the flow of life and write when you can?
I get up an hour before everyone else in my family so I can write before my day is colored by anyone else's mood.
Describe your perfect alpha hero.
Strong and protective, but he always treats his lady with respect. I can't stand alphaholes.
Thanks, Carrie! Get more paranormal themed stories like Shifting Fate in Hearts Unleashed, a Limited Edition Paranormal Romance and Urban Fantasy Collection of 20+ NEW heart-pounding supernatural fiction featuring sensual heroes and sassy heroines.
Purchase Shifting Fate in Hearts Unleashed:
Amazon: https://amzn.to/355Dcal
Universal: https://books2read.com/hearts
Follow Carrie:
Amazon: https://amzn.to/2YPXm4I
Bookbub: https://www.bookbub.com/authors/carrie-pulkinen
Twitter: https://twitter.com/carriepulkinen
Website: https://www.carriepulkinen.com/