Black Heart by L.A. McGinnis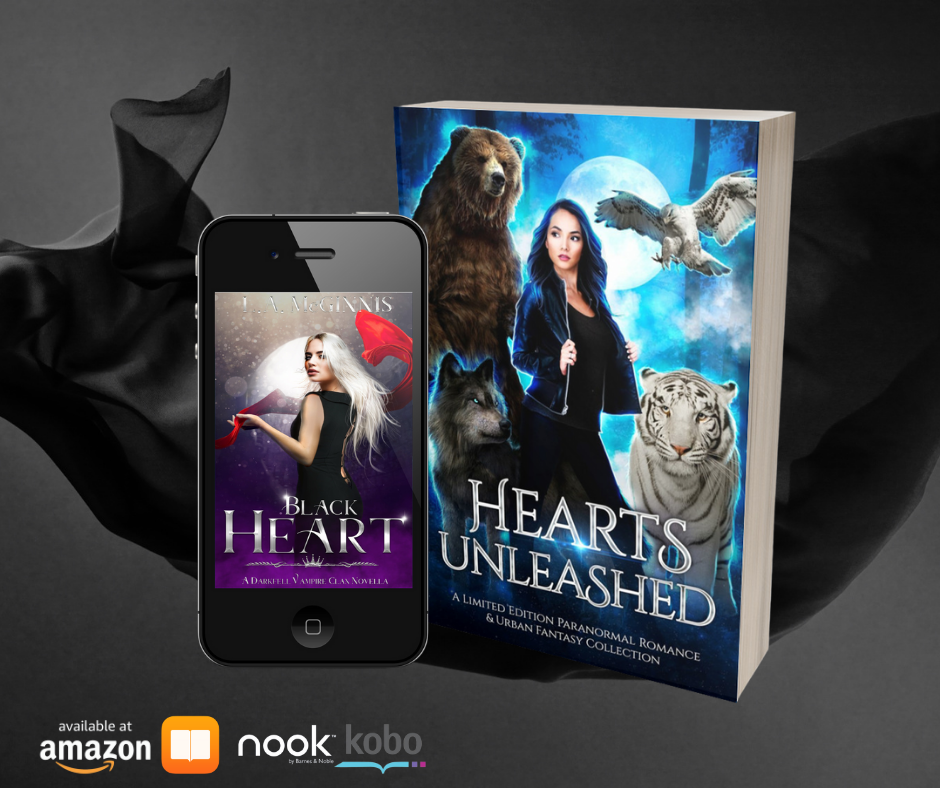 Welcome, L.A. McGinnis! Please start off by telling us a little about yourself.
Perched on the edge of a national park, L.A. McGinnis spends her days writing sexy urban fantasies filled with brooding heroes and smart, bold heroines. A life-long fascination with mythology inspires her to weave these contemporary tales of legendary fated mates set in gritty, urban settings like New York, Chicago and London.
What genres do you write?
PNR, UF, RH
How many books have you published?
15 so far, with more on the way!
What can a reader expect when picking up one of your books for the first time?
Lots of sass, some snark, tons of steam and plenty of character development.
What were your inspirations for Black Heart?
I've always been interested in how creatures who live for hundreds of years would govern themselves, and it made sense that they'd retain some of their learned behaviors from when they were human. so I incorporated a royal class structure into the story, which serves as a background theme, and drives certain character's behaviors.
Please share your setting for Black Heart. Have you ever lived or visited there? If so, what did you like most?
New Orleans and the surrounding area. Sadly NOLA was on our travel list for 2020, but the trip never happened. maybe this summer once things calm down we can make it down!
How did you research or prepare?
I usually do a deep dive into setting, including food, weather, famous local sites, colleges, businesses and anything specific to the region. (Past disasters is always an interesting rabbit hole.) Then I take my two main characters and set them loose!
When did the writing bug first bite?
I've been writing since 2007, but seriously since 2016. I was always interested in the power of stories, and took lots of college courses in mythology, Old English and Shakespeare. It wasn't until my kids were older, I could steal the time to actually write!
Who are your favorite authors, book/series?
Karen M Moning, JR Ward, Darynda Jones, Larissa Ione…the list goes on and on.
What is your most favorite childhood memory?
When I got to give the homecoming queen her flowers during halftime when I was five. I got a new dress and shoes, and got to ride in a convertible (this was 1968, people) around the football field and go to the bonfire afterwards. I still remember everything about it!!!
Do you have any hobbies or special things you like to do in your spare time?
I'm a lampwork artist, using a torch and a kiln.
Boxers, brief or commando?
Commando, of course
Favorite eye color?
Green
What's the strangest thing you've heard or seen?
I once did a perfect 360 on an icy road around a semi truck sliding the other way. It was the scariest dance I've ever done, and we both missed each other by inches.
Do you have a set writing schedule or do you just go with the flow of life and write when you can?
I run an art business, so writing days are Wednesday, Thursday, Friday and Saturday.
Describe your perfect alpha hero.
Tough but sensitive, doesn't take any BS, calls people out when they screw up, and always demands the best of his partner, supporting them so they can live up to their potential.  Oh, and sexy, they must be sexy, preferably with dark hair and green eyes. 
Thanks, L.A. McGinnis! Get more paranormal themed stories like Black Heart in Hearts Unleashed, a Limited Edition Paranormal Romance and Urban Fantasy Collection of 20+ NEW heart-pounding supernatural fiction featuring sensual heroes and sassy heroines.
Purchase Black Heart in Hearts Unleashed:
Amazon: https://amzn.to/355Dcal
Universal: https://books2read.com/hearts
Follow L.A.:
Amazon: http://amzn.to/3t0iC4P
Bookbub: https://www.bookbub.com/authors/l-a-mcginnis 
Twitter: https://twitter.com/LAMcGinnis1520   
Website: https://lamcginnis.com/