Wild Springs by Melissa Bell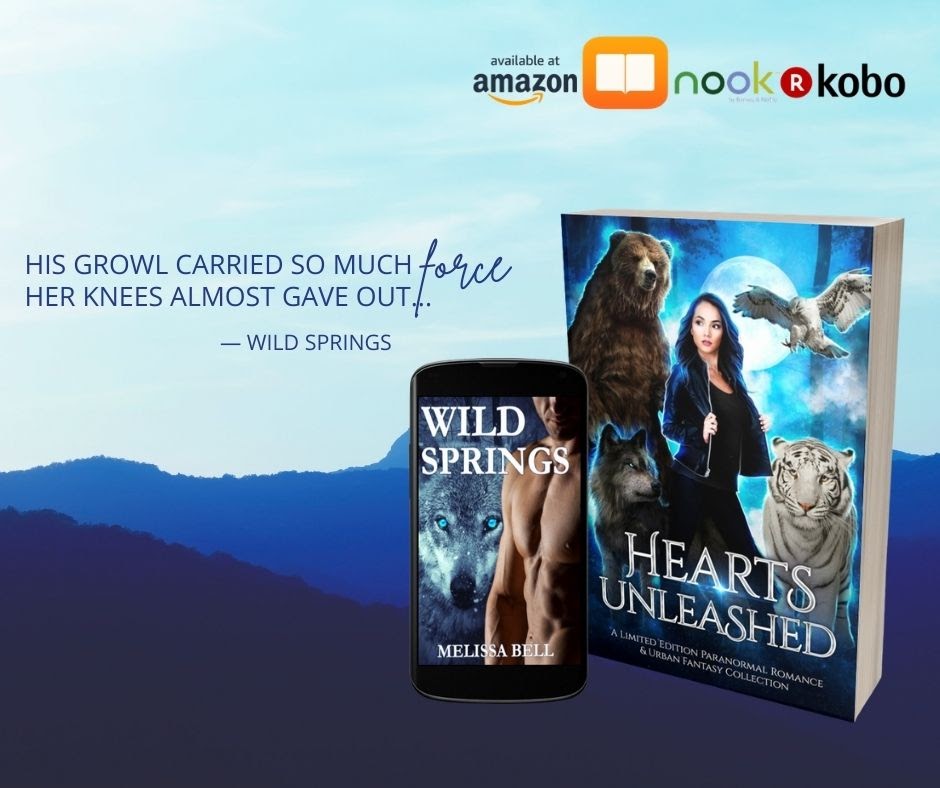 Welcome, Melissa Bell! Please start off by telling us a little about yourself.
I live in Brisbane, Australia. At a point in my life where I felt I needed something just for myself, I discovered the pleasures of writing. My most frequently used comment to myself is there's not enough time in a day. I enjoy good food and good company when I'm not trying to concentrate on my writing. I also love to laugh and most of the time, I crack myself up. I am hoping that this is the start of something amazing and one day aspire to be listed amongst those blessed with the title of being on the New York Times and USA Today Best Seller lists. When I'm not writing I love to read books, many of which I have read over and over again while listening to my favourite Australian bands – Birds of Tokyo and Karnivool.
What genres do you write?
Paranormal Romance is my first choice but I am a multi-genre author.
How many books have you published?
25
What can a reader expect when picking up one of your books for the first time?
I generally have strong alpha males and sassy female leads to give them a run for their money. I like a little mystery in the mix to keep the reader turning the pages to find out what happens next.
What were your inspirations for Wild Springs?
I love wolf shifters so I wanted to go back to my roots with this one and write a story that would capture the hearts of romance readers all around the world.
Please share your setting for Wild Springs. Have you ever lived or visited there? If so, what did you like most?
The setting for my story 'Wild Springs' is a fictitious place that could exist anywhere.
How did you research or prepare?
I drew pictures of the layout of the land and surrounding area. I found pictures that I felt depicted the lead characters.
I tend to go for Karnivool or Birds or Tokyo as I can use the music as backing to the images in my mind as I write.
When did the writing bug first bite?
I guess I always wanted to write but never really got into it until about 2012/2013.
Who are your favorite authors, book/series?
Luarann Dohner's New Species Series is always at the top of my list. Closely followed by Lora Leigh's Breeds Series
What is your most favorite childhood memory?
When I was in elementary school – Grade 7 I discovered reading for the first time and found it so engrossing that I was hooked. The book I read was 'To Kill A Mocking Bird.' I then went on to read 'Flowers in the Attic.'
Do you have any hobbies or special things you like to do in your spare time?
I love to make my own swag, I think it has a personal touch to it.
Boxers, brief or commando?
Commando
Favorite eye color?
Hazel
What's the strangest thing you've heard or seen?
When I was in my early 20s, I house sat for my sister when she went away for the weekend. The house was haunted by a nasty old man who didn't want anyone there. He used to move stuff around and hide it.
Do you have a set writing schedule or do you just go with the flow of life and write when you can?
I'm one that just writes when the flow is happening. I have a degenerative spinal condition that stops me from sitting for extended periods of time. So I have to make the most of it when I can. If I have to lay down I use my notes section of my iPhone to write out plots and stuff to use the next time I sit down to write
Describe your perfect alpha hero.
A perfect Alpha male is a guy who treats a woman with respect. He also draws strength from his female.
Thanks, Melissa! Get more paranormal themed stories like Wild Springs in Hearts Unleashed, a Limited Edition Paranormal Romance and Urban Fantasy Collection of 20+ NEW heart-pounding supernatural fiction featuring sensual heroes and sassy heroines.
Purchase Wild Springs in Hearts Unleashed:
Amazon: https://amzn.to/355Dcal
Universal: https://books2read.com/hearts
Follow Melissa:
Amazon: https://amzn.to/39NLGGb
Bookbub: https://www.bookbub.com/authors/melissa-bell 
Twitter: https://twitter.com/peekaboo2u2