Her Dragon Mate by Elle Boon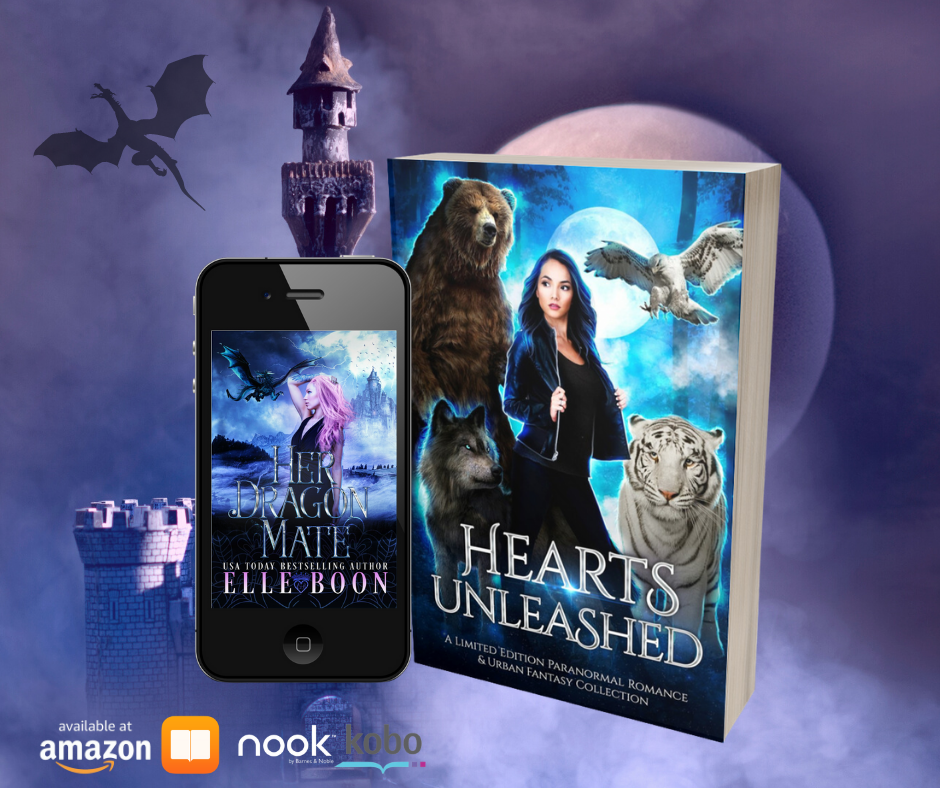 Welcome, Elle! Please start off by telling us a little about yourself.
I'm a wife, a mother, and a Mimi to one little nugget who has changed our world. I love to write all things, but paranormal is probably my favorite because I love creating new worlds where anything is possible.
What genres do you write?
I write a little bit of everything, from Paranormal with shifters of all kinds, wolves, dragons, and bears, to MC Romance, Navy SEALs, and contemporary with some Menage paranormal thrown in that is awesome IMO
How many books have you published?
I think I'm at 48 now LOL
What can a reader expect when picking up one of your books for the first time?
Readers can expect lots of action, suspense, and sexy AF alpha males with heroines who are not weak or too stupid to live. You'll always get a happily ever after with each of my stories 'cause I am not a cliffhanger writer or lover LOL While there is sex (really steamy scenes) the stories are very plot driven and I hope well written.
What were your inspirations for Her Dragon Mate?
For the story in this anthology, my heroine has been in several other stories, but you never knew why she was so reclusive. Her daughter and her are both pink dragons and are keepers of the Fey Realm when the Queen is off doing her thing. So this story explains or tells you exactly why she is who and why and where she came from.
Please share your setting for Her Dragon Mate. Have you ever lived or visited there? If so, what did you like most?
The book Her Dragon Mate is set in multiple places. Earth modern day plus The Dragon Realm, and Fey Realm. I love being able to create the worlds that you'll see in the story and hope y'all will be able to envision them both as well as Earth.
How did you research or prepare?
For research I use the internet A LOT for my stories that are based off of real-life things and for my paranormal stories I look at images of things that I want to emulate and then twist and turn them to my liking. Although it's paranormal, I like to be able to envision things so that I can explain them well so that readers too can see them.
When did the writing bug first bite?
I was first a beta/crit partner for other writers who then encouraged me a little over 7 years ago and I've not looked back.
Who are your favorite authors, book/series?
OYY, I have soo many, but my first romance author I read was Diana Palmer and I still love her today. She's totally different than what I write, but I will go back and read her books when I need what I call a "brain cleanse" lol
What is your most favorite childhood memory?
Hmm, well, that's hard because I had a stroke when I was thirty-two so things are a bit wonky in my head. That's one of the reasons I started writing. I have a degree in accounting, which is what I was doing prior to writing, but as life does, it tossed me a curve. So, I swerved and here is where I am.
Do you have any hobbies or special things you like to do in your spare time?
I am a cleaner. I love to clean and organize and read or watch my granddaughter RomyGirl who is the light of my life.
Boxers, brief or commando?
For me, I'm a panty girl LOL for my guy I like boxerbriefs <3
Favorite eye color?
Well, my hubby has amber eyes which I love but both my kiddos and my granddaughter have gorgeous blue sooo there you go "wink"
What's the strangest thing you've heard or seen?
Oh, do you have all day? I've heard and seen lots of weird stuff in my life. I mean, crazy is as crazy does they say, so I tend to not judge…too hard. However, I will say, that when you put your life out there you can't help but get some raised brows from time to time. For instance, I saw a couple who were upset that people were judging them. Well, when you're sitting around talking to each others…feet, that's a little odd, but hey, you do you, Boo <3
Do you have a set writing schedule or do you just go with the flow of life and write when you can?
I usually start first thing and go with the flow.
Describe your perfect alpha hero.
The perfect alpha hero is strong, dominant, and puts his mate and family first. He's of course sexy AF and will do anything to make his mate happy.
Thanks, Elle! Get more paranormal themed stories like Her Dragon Mate in Hearts Unleashed, a Limited Edition Paranormal Romance and Urban Fantasy Collection of 20+ NEW heart-pounding supernatural fiction featuring sensual heroes and sassy heroines.
Purchase Her Dragon Mate in Hearts Unleashed:
Amazon: https://amzn.to/355Dcal
Universal: https://books2read.com/hearts
Follow Elle:
Amazon: http://amzn.to/3bsmXb1
Bookbub: https://www.bookbub.com/authors/elle-boon
Twitter: https://twitter.com/elleboon1
Website: http://www.elleboon.com/