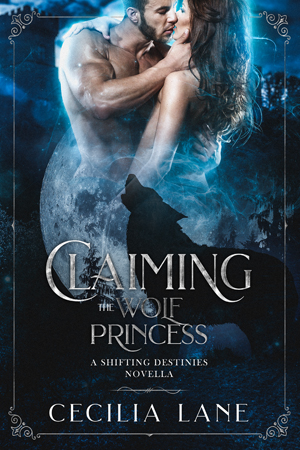 Claiming the Wolf Princess
Darkness rises and darkness comes. With it, the House of Conri falls.

Brokenhearted, non-shifter Rory Conri returns home to the Wolfden enclave. There's only one thing she knows will help take her mind off of her ex: the annual Summer Solstice Ball. But those plans are shattered when her parents, the Wolf King and his Consort, forbid her from attending. Their refusal stems from the fear of her curse—a ruinous birthright that prophesized the downfall of the Conri line the day Rory takes a mate.

Determined, Rory sneaks into the ball anyway. There's no reason for them to worry. Conris only mate wolves, and no one would ever want a non-shifter without a wolf inside. But when a tall and ripped masked stranger claims that she's his mate, Rory questions the life of solitude that her parents have thrust upon her.

Adrien Bloodwing hates suits and masks, and he especially hates balls. Forced to attend by his dragon clan leader, Adrien dreads every second he's at the Summer Solstice Ball until the fleeting scent of his mate catches his attention. He is immediately drawn in by her sultry curves and shocked when she tells him about some silly curse she carries. It's a lie. At least he believed it was before she practically dropped dead in his arms after an innocent kiss.

With Rory whisked away, Adrien is determined to save and protect his mate while also clearing his name of murder. But things only darken as the pair begin to unravel the lies of Rory's past. Together, the two will have to face an evil that has haunted her entire life or forever be torn apart.

~~~
Step into the world of Shifting Destinies, where the men and women you meet might just be a little more than human. Their towns are protected by magic, and their hearts are open and ready for love. But watch your step - more than darkness lurks in the shadows.
Release Date:
June 6, 2018
Also in this series: