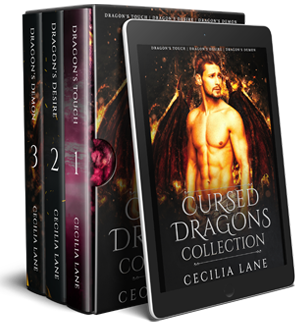 Cursed Dragons Collection
Cursed long ago by an ancient demon, three dragon shifter brothers are on the hunt for vengeance against the monster of their past and salvation in the arms of their fated mates.

Book One: Dragon's Touch
Cursed by a demon, dragon shifter Davin has been stuck in a cycle of sleeping and hunting for his fated mate. After being rescued by a man with hypnotic green eyes, Bree is forced to accept Davin's mad stories of witches, demons, and dragons are all too real and she's the key to breaking his curse.

Book Two: Dragon's Desire
Dragon shifter Quinn's presence unleashes the unwanted demonic attention of an ancient enemy on Lily, his fated mate. But with the demon hunter's target in the wind and her sister on the chopping block as punishment, time is running out for Lily to launch a daring rescue. As their foes circle, Quinn and Lily orbit around a truth neither wants to admit: happy endings come with a price.

Book Three: Dragon's Demon
Seeking to right the wrongs committed by her father, Astrid agrees to help Nix and his brothers track down the demon that ruined them. But when a spell goes horribly wrong, Astrid and Nix find themselves trapped in the underworld. With time running out, they must trust one another to save themselves. But will they find more than they imagined in their fight for the future?
Also in this series: