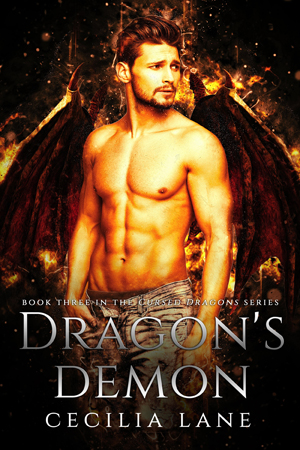 Dragon's Demon
Can the daughter of his ancient enemy be trusted with his life—or his heart?

Troubled. Crazy. Broken.
Dragon shifter Mannix Byrnes doesn't need to hear the whispered words of his brothers to know he's a disappointment. After failing to protect a witch from death, they're all living with a curse hanging over their heads. Now Nix must find his fated mate to break a demon's terrible magic or end up failing his brothers once again. But the half-dead woman he finds in the snow just might have ties to the monster of his past.

Shattered. Alone. Desperate.
Astrid's evil father only wants her around for his own personal gain. After sentencing two woman to certain death, Astrid finds the courage to escape her father's clutches. Her brief taste of freedom ends in disaster—until she awakes in a warm bed with a hulking caveman looming over her. But shifters and demons don't mix, even half-demons like herself.

Seeking to right the wrongs committed by her father, Astrid agrees to help Nix and his brothers track down the demon that ruined them. But when a spell goes horribly wrong, Astrid and Nix find themselves trapped in the underworld. With time running out, they must trust one another to save themselves. But will they find more than they imagined in their fight for the future?
Release Date:
September 13, 2017
Also in this series: