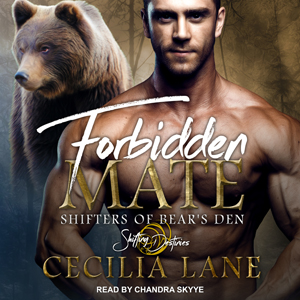 An Alpha Bound by Duty

Bear shifter Callum Strathorn has a job to do. With his father's health declining, it's up to Callum to take over as Mayor of Bearden.

When Leah Arden crashes her car near Bearden, Callum leads the first responders. He pulls the lovely woman from the wreckage, but as her wits return, she sees things that humans should never see. Forbidden things, like a mysterious town and a man shifting into a bear.

Callum has no choice. To protect his town and his clan, he keeps Leah captive in Bearden while he figures out damage control. He soon finds himself with a fiery and furious female on his hands. And if things couldn't get worse, the stubborn and aggravatingly sexy woman smells and tastes just like his fated mate.

A Woman on the Run
Leah Arden lives a life haunted by secrets. She can't stay in one place for long or her past will catch up with her. With nowhere to turn, she doesn't trust anyone, not until she meets Bearden's gruff but handsome mayor.

Callum's slow, sexy smile and quiet strength make her yearn for more. But when he lays down the law and forces her to remain in Bearden, she grows desperate to find a way to escape. Even if that means betraying the one man who makes her want to put down roots.

As Leah's secrets unravel, the danger grows, looming over her and all of Bearden. Callum's enemies are looking for weakness, and he handed them one on a silver platter. Can the town's alpha keep his people safe, especially the woman who is fated to be his?

~~~
Step into the world of Shifting Destinies, where the men and women you meet might just be a little more than human. Their towns are protected by magic, and their hearts are open and ready for love. But watch your step - more than darkness lurks in the shadows.

PSST! Looking for the ebook or paperback version? FIND THOSE HERE!