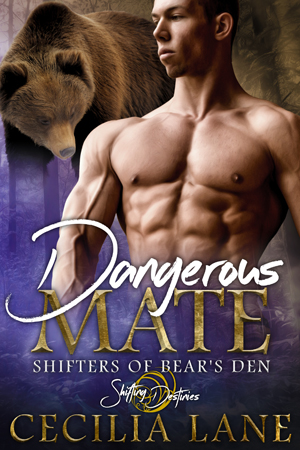 Dangerous Mate
A Bear spoiling for a brawl.

Cole Strathorn fights fires. That's all he's ever wanted to do. He thrives on danger and protecting his clan. No one would mistake the six-foot-four, gruff bear shifter for a freaking baby sitter. But that's exactly what he's become thanks to an assignment from the town's mayor. Cole's new job requires him to keep an eye on the government scientist who has arrived in Bearden to study the shifters.

Cole expects a clichéd nerd with horn-rimmed glasses and a pocket protector, but he's pleasantly surprised to find his charge is a lovely, curvy and very appealing woman. A woman who smells like she might be more than an assignment. The shy but brilliant scientist might even be his mate. Her addicting scent certainly arouses his bear.

A head for science, but a body for research.
Rylee Garland has come to Bearden to work. She doesn't have time for distractions or bossy bodyguards, even if they're tall, dark and gorgeous. She's determined to ignore the tension sizzling between her and Cole. Her reputation hangs in the balance. If she doesn't solve the mysteries swirling around the small town, she can forget about keeping her job.

But it grows harder to resist Cole's charm. One wicked-hot kiss leads to another. Is Cole for real? Or is he just using his seduction skills to get information? Rylee's had enough heartache for one lifetime and the deeper she falls for Cole, the more she worries he might not be what he seems.

A war brews.
While Rylee and Cole fight their attraction, sinister forces gather in the town of Bearden. The government might want information about the shifters, but there are others that seek something darker: total shifter eradication. The threat lurks, and the menace is real. Rylee and Cole must set aside fear and desire and join forces if they hope to save the shifters of Bearden.

~~~
Step into the world of Shifting Destinies, where the men and women you meet might just be a little more than human. Their towns are protected by magic, and their hearts are open and ready for love. But watch your step - more than darkness lurks in the shadows.

PSST! Looking for the audiobook version? FIND THAT HERE!
Release Date:
January 10, 2018
Also in this series: