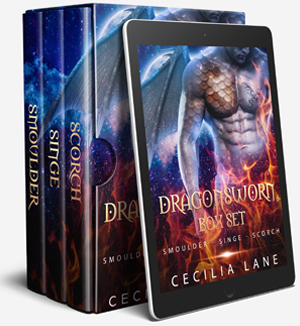 Dragonsworn Box Set
Bound by blood and magic.

Three elite fighters ascend to the rank of Dragonsworn, guards dedicated to protecting the royal family. But will finding love challenge their sense of duty and set their world on fire?

Book One: Smoulder
Dragon shifter Rafe leads the Dragonsworn against their ancient enemies: the dragon slayers. When one infiltrates his lair, her scent and curves threaten to ruin him.

Book Two: Singe
Brody's mission to reclaim the abducted heir takes a turn when his connection to a rival group of dragon shifters comes in the shape of a tantalizingly curvy, gorgeous woman--who just happens to be his undeniably fated mate.

Book Three: Scorch
With a rogue dragon threatening the city, the last thing on Levi's mind is a mate. But when he encounters a curvy and fiery woman on the run from the monster in the skies, he can't resist.
Release Date:
November 11, 2017
Also in this series: