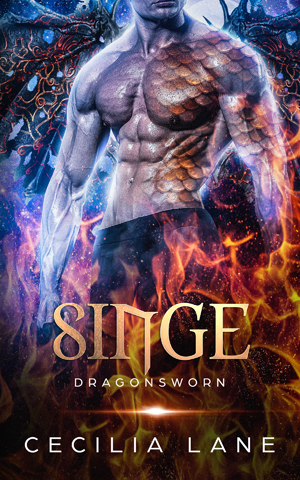 Singe
She's destined for him…
But will she betray everything he holds dear?

Bound by blood and magic.
Dragon shifter and Dragonsworn guard Brody Carlisle must protect the heir to the throne. When the young girl is abducted from her bedroom, Brody will stop at nothing to reunite her with the king and queen. But his mission takes a turn when his connection to a rival group of dragon shifters comes in the shape of a tantalizingly curvy, gorgeous woman--who just happens to be his undeniably fated mate.

Born into politics and power.
As one of the human children of the Gallo dragon clan, Marissa Gallo prefers to remain neutral, ignoring the political fire in her dragon kin. But when she's called upon to help rescue a young child, she can't possibly refuse the sexy, chiseled man enlisting her help.

As the heat between Brody and Marissa ignites, the brewing war between factions threatens to keep them apart. Now, Brody must count on Marissa to set aside her family and rescue the heir from the enemy. But does she have a different plan that will destroy everything?
Release Date:
January 20, 2017
Also in this series: