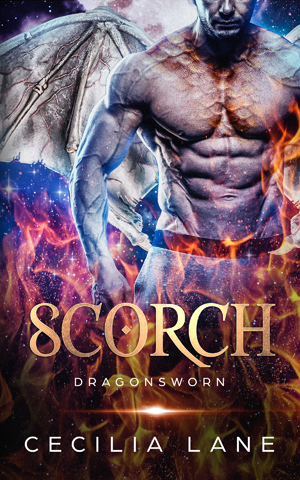 Scorch
She's running for her life...
But he just might be a step behind.

Dragon shifter Levi Hastings cares for two things: protecting the heir to the Dragon Throne and beautiful women. Unlike his Dragonsworn brothers, he's not looking for a mate.  But when he encounters the curvy and fiery woman, he can't resist. With the claiming scent of another dragon dousing her, he knows she's off limits.

Roxanna Pierce is a woman of many names. Fleeing from a rogue dragon stalker for the last year, she knows her time is running out until he finally tracks her down. Desperate to escape the man who's determined to claim her as his own, Roxy rushes headlong into the strong arms of another, who's just as resolved to get a taste of her. Only this time, Roxy finds it hard to resist her sexy rescuer with the hypnotic hazel eyes.

As her captor descends upon an unsuspecting Azra Valley, he leaves destruction and murder in his wake. Roxy knows she must do whatever it takes to keep Levi and the city safe--even if it means sacrificing herself for the greater good. Will Levi conquer the monster of Roxy's past before it's too late?
Release Date:
March 31, 2017
Also in this series: