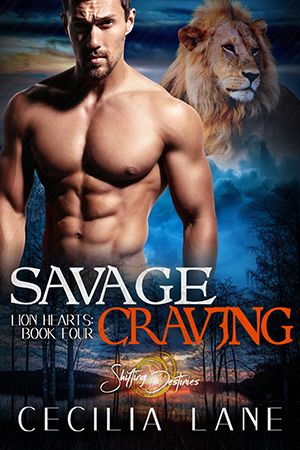 Savage Craving
A woman who loathes shifters. A lion on the prowl for his mate. A threat of death brings them together, and may tear them apart.

Lilah survived a shifter prison break, but the convicts escaped and now she's on the run.

She doesn't want a bodyguard, especially not an intense, inscrutable shifter who looks at her like she's his last supper. Shifters are bad juju, and Seth's sexy intensity feels like some serious black magic. But the most dangerous escaped con wants Lilah dead. Enraged and at the end of her strength she flees—right into the jaws of the enemy's trap. There's no choice but to accept Seth's protection.

Loner lion shifter Seth's own pride doesn't want him—and now his mate rejects him as well.

Seth brings Lilah to Bearden to lie low. She might not want his help, but she has it and more—he knows Lilah is his mate. An entire life lived shiftless and in her presence suddenly his lion breaks free.

But there's no time to explore the growing mate bond. A single fateful moment changes everything, vindicates Lilah's loathing, and sets them on a path that could lead to ruin.

If Lilah doesn't overcome the horrible memories of her attack, and if Seth doesn't connect with his beast, then their fledgling bond will break... and the consequence is death.

Savage Craving, a steamy paranormal romance, is book four in the Lion Hearts series. You're guaranteed a wild ride and a HEA. For readers who love alpha heroes and enemies-to-lovers fated mates romance.

Download now and snuggle up with a shifter bodyguard with bite.

PSST! Looking for the audiobook version? FIND THAT HERE!
Release Date:
August 5, 2020
Also in this series: