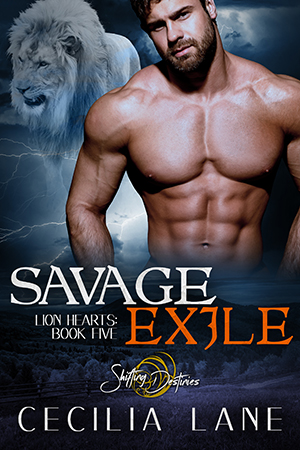 Savage Exile
He can't save himself, but he'll save her...

Rhys is a disaster: too violent for his old pride, and more accustomed to using his fists instead of his words. He's managed to carve out a place among the Crowley lions, but his temper still rides him hard. The only balm is Sage, a shattered woman with a core of fire. He wants to bring it out of her. Can he avoid getting burned?

She's tired of living under her father's thumb...
Sage narrowly escaped a forced mating, but she can't quite manage to pick up the pieces. Except when she's around Rhys. The rumbly lion makes her ache for something more. But good things don't last for Sage, and her father's demand she return to the man who bought her cuts her to her core.

Can a broken woman find redemption in the arms of her disaster of a mate? Or will old wounds and enemies be too strong for even the toughest lions to overcome?

Savage Exile, a steamy paranormal romance, is book five in the Lion Hearts series. For readers who love a broken alpha hero willing to gamble everything on a second chance with a woman learning to live on her own terms.

Download now for a gritty, intense romance wrapped in fangs and fur.

PSST! Looking for the audiobook version? FIND THAT HERE!
Release Date:
October 7, 2020
Also in this series: