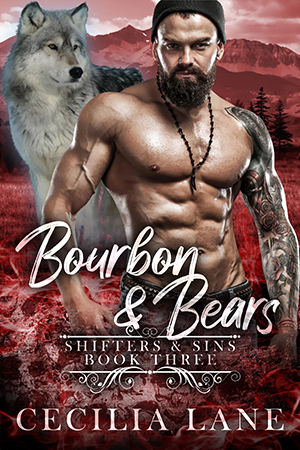 Bourbon and Bears
A woman with a baby and a whole lot of trouble, a bad boy shifter trying to pull his life together, and enemies that will do anything to keep them apart.

Maylee Henderson's got a busted car, a fussing baby, and an angry bear hot on her heels. She's at the end of her rope until she stumbles into Ellis's bar and learns that there's a difference between brute force and dominance. Ellis is clearly trouble, and he knows how to throw a punch, but his strength is a tool of protection, not fear, and he's nothing like the violent men in her old clan.

Semi-reformed big bad wolf Ellis Hays has been burned before, but one look at Maylee has him pushing aside his own rules at the same time he's throwing the bear shifter chasing her out on his ass.

Ellis isn't looking for a mate, but he's entranced by the curve of Maylee's hips and the challenge in her eyes. Problem is, she's got secrets of her own, and Ellis isn't sure he's ready to trust a stranger.

A hunted woman can't have a mate, and Maylee is still convinced that mating isn't for her. It doesn't matter that Ellis makes her shiver with want and dream of a possible future she's seen fall to ruin too many times to count.

When the past comes calling, Maylee will need to make a choice. Can she really ask her newfound pack to stand beside her against her family? Or is running again the only option to protect Ellis's pack… and herself?

Bourbon and Bears is the third in the gritty Shifters and Sins series. Download now for a semi-reformed bad boy who will fight off his mate's enemies and change the baby's diapers, a couple who learn to trust despite vicious pasts, and discover that family is so much more than blood.
Release Date:
October 8, 2019
Also in this series: