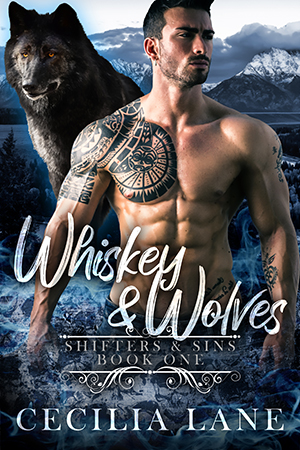 Whiskey and Wolves
A single wolf shifter. A surprise baby. Enemies who want to make his little girl an orphan, and his old lady a widow.

Five minutes ago it was just Jensen, a cheap drink, and the start of a brawl with members of a rival motorcycle gang intent on murdering him. He's happy to let them try—until a former one night stand, Noelle, walks into the bar and pins him with a look of death, revealing they have a daughter.

A little girl with eyes like his, peering at him from behind her mother's legs.

Five minutes ago he was a single wolf shifter. Now he has to sober up, alpha up, and protect the woman and child who are now a weapon his enemies can use to run him out of town.

It's hard enough being a single mom, but a single mom to a growing wolf?
Her child's father is back, an alpha wolf shifter with a bad boy edge. All she needs is for him to teach their daughter how to control her shifter nature. He's nothing Noelle should want in a man—but everything she craves.

Only she didn't know throwing down the gauntlet in a local bar would mean becoming the targets of the local motorcycle gang. Didn't know their sizzling chemistry would morph into something deeper, something worth fighting for.

Jensen's dog days are over. If he can't shield his mate and daughter from the heat, they'll all burn.

Whiskey and Wolves is a steamy paranormal romance, Book 1 in the Shifters and Sins series. This standalone with a HEA is for readers who love their heroes gritty and their heroines willing to step up to the line for life, family, and love.

Download now because you need an alpha dad who steps up rather than steps out.
Release Date:
June 4, 2019
Also in this series: