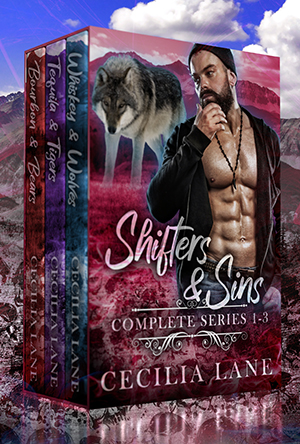 Shifters and Sins Complete Series
Surprise babies. A secret son. With enemies closing in, these bad boy wolves face the greatest challenge of their lives: fatherhood.

The Rawlins pack roars into town in this complete series set. Facing down their past and present, these wild wolves are fighting for their future. Join these gritty heroes and strong, sassy heroines as they step up for family and love.

Whiskey and Wolves
It's hard enough being a single mom, but a single mom to a growing wolf? Her child's father is back, an alpha wolf shifter with a bad boy edge. All Noelle needs is for him to teach their daughter how to control her shifter nature. He's nothing she should want in a man—but everything she craves.

Tequila and Tigers
Wolf shifter Wyatt tried to do the right thing—protect and mate the girl he loved. Instead he was framed for murder and run out of town by Alanna's powerful tiger shifter father. But blind vengeance will have to wait. The mate he was forced to leave had his baby—a defiant boy now in danger from his own grandfather.

Bourbon and Bears
Maylee's got a busted car, a fussing baby, and an angry bear hot on her heels. She's at the end of her rope until she stumbles into Ellis's bar and learns that there's a difference between brute force and dominance. Ellis is clearly trouble, and he knows how to throw a punch, but his strength is a tool of protection, not fear, and he's nothing like the violent men in her old clan.
Also in this series: