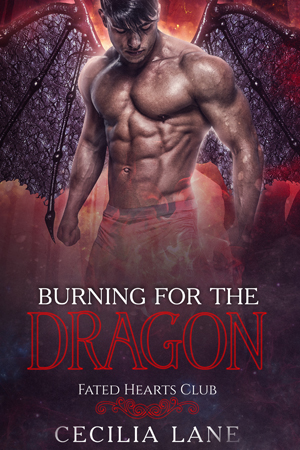 Burning for the Dragon
Has fate given them everything only to cheat them of their happy ending?

A reluctant ruler...
When his brother is killed by a dragonslayer, Luca de Rege becomes the unexpected heir to the Dragon Throne. Used to answering only to himself, he's now responsible for finding a mate and ensuring that the rapidly-dwindling dragon shifter population doesn't go extinct. He doesn't have high hopes for his visit to the Fated Hearts Club… until he spots the curvy temptation sitting at the bar.

A woman alone...
After a shattering betrayal, Penelope Minett has given up on love. Though a friend talks her into attending an event at the Fated Hearts Club, she's resigned to a life of solitude. The last thing she expects is for an impossibly sexy, irresistibly charming billionaire to sweep her off her feet.

A desperate attack...
Just as her defenses start to melt in response to his fiery desire, a threat from Luca's past takes aim at the throne by targeting Penelope. He'll stop at nothing to rescue her and claim his mate -- but will he be in time to stop a cruel, relentless enemy from destroying their future?

Burning for the Dragon is a standalone story set in the Fated Hearts Club world. Expect sexy, shape shifting heroes and curvy beauties, with a dash of complications along the way.
Release Date:
August 31, 2016
Also in this series: