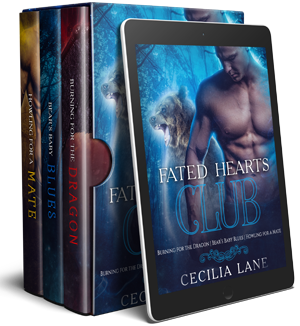 Fated Hearts Club: Volume One
True love, forever. Find your fated mate today.

Just one trip to the Fated Hearts Club can change your life.

Book One: Burning for the Dragon

Has fate given them everything only to cheat them of their happy ending?

A reluctant ruler...
When his brother is killed by a dragonslayer, Luca de Rege becomes the unexpected heir to the Dragon Throne. Used to answering only to himself, he's now responsible for finding a mate and ensuring that the rapidly-dwindling dragon shifter population doesn't go extinct. He doesn't have high hopes for his visit to the Fated Hearts Club… until he spots the curvy temptation sitting at the bar.

A woman alone...
After a shattering betrayal, Penelope Minett has given up on love. Though a friend talks her into attending an event at the Fated Hearts Club, she's resigned to a life of solitude. The last thing she expects is for an impossibly sexy, irresistibly charming billionaire to sweep her off her feet.

A desperate attack...
Just as her defenses start to melt in response to his fiery desire, a threat from Luca's past takes aim at the throne by targeting Penelope. He'll stop at nothing to rescue her and claim his mate -- but will he be in time to stop a cruel, relentless enemy from destroying their future?

Book Two: Bear's Baby Blues

How does a bad-boy billionaire bear woo a woman who's been burned one time too many?

Playboy billionaire and bear shifter Carson Medved is a frequent visitor to the Fated Hearts Club, but he's not looking for a mate. He's got a reputation for loving and losing a regular stream of female companions. However, with his sister getting married and her new in-laws unhappy about his exploits, Carson needs to cool things down in the public eye.

Curvy blonde Alison Ann Gibbs is a marketing and PR specialist who's left behind a life shattered by a man's lies and deceptions. She's drawn to Carson when she meets him at the Fated Hearts Club, but is wary of trusting again. Then Carson hires her to help manage his public image, and the attraction between them grows ever stronger.

Carson can no longer deny what he knows is true: Alison is his mate. She's still fighting her feelings, because his past won't stop intruding. The final straw comes when someone leaves a baby boy on his doorstep, with a note saying the child is his son. Can Carson overcome Alison's doubts and prove to her that he's worthy of her trust?

Book Three: Howling for a Mate

Fate brought them together... but will his need for vengeance destroy her?

On the trail of the men who murdered his family, wolf shifter Ryder Morse finds himself scoping out the Fated Hearts Club for the man that ordered the hit. Ryder hates everything about the place, from the money in everyone's pockets to the monkey suits they all wear. The last thing he expects is a distraction in the form of a sassy woman with a scent that calls to his inner beast.

Vera Hunt has never been drawn to the shifters of the Fated Hearts Club in the way that Ryder tempts her. She experiences enough of their high society lifestyle as a party planner and craves some blistering excitement. The wolf shifter is rippled with muscle and dripping with brooding mystery, but she's become an unwilling pawn in his quest for revenge.

When Vera is placed on a hit list, it's up to Ryder to protect her. Despite the risks, Ryder and his wolf can't resist getting closer to the curvy beauty they both want to claim as their mate. Can he set aside his dangerous mission for a chance at happiness or will darkness consume them both?

This is a boxed set of standalone stories in the Fated Hearts Club world. Expect sexy, shape shifting heroes and curvy beauties, with a dash of complications along the way.
Release Date:
February 11, 2017
Also in this series: