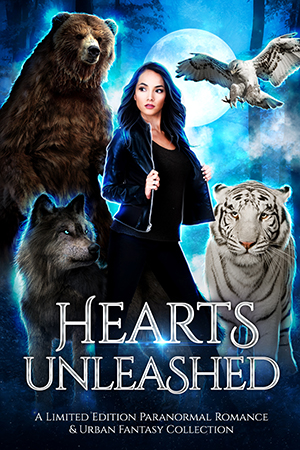 Hearts Unleashed
Lose yourself in the magic...

Hearts Unleashed brings you 20+ BRAND NEW tantalizing tales of paranormal romance and urban fantasy in this thrilling collection of heart-pounding books featuring Shifters, Vampires, Witches, and more.

Unleash your heart, indulge your senses, and satisfy your cravings with this fantastic collection of supernatural fiction featuring sensual heroes and sassy heroines, crafted by some of your favorite bestselling and award-winning authors.

Including Moon Claimed by Cecilia Lane!

A woman hiding from destiny. An alpha hunting his fated mate. A bloody challenge to reclaim a throne.

Wolf shifter Abel is the pack prince. After the murder of his father, he is nothing but fire and fury. To claim vengeance and his place as alpha, he must heed his father's cryptic final command.

Find his power in Yellowstone. Find Dakota—his fated mate.

And once he finds her, seduce her into taking her place at his side. Love her into risking everything for his pack. Protect her from the uncle determined to see her dead.

Yellowstone is park ranger Dakota's refuge. There she hides from a lifetime of pain, and from a strange prophecy that her future lies with wolves.

Injured and alone, she sees feral eyes pierce the gloom and braces to meet death—only to watch a wolf shift into a man. A man insisting she belongs to him, and is key to saving his pack.

Love convinces Dakota to follow her destiny with Abel. Danger teaches her the consequences of being an alpha hero's mate. Strength teaches her to transcend destiny to help the man she loves save a people from ruin.

Moon Claimed is a steamy paranormal shifter romance featuring pack politics, family betrayal and the fight to claim a fated mate.
Also in this series: