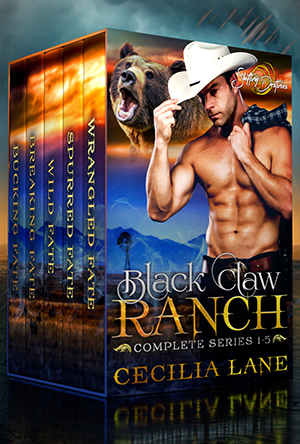 Black Claw Ranch Complete Series
Growly, grumpy cowbears don't stand a chance against their fated mates.

Saddle up with the bears of the Ashford clan in this complete series set. Snarling, tortured cowboys find their match in their feisty mates, with loads of kick-butt action and swoon-worthy romance.

Wrangled Fate
Tansey is on the hunt for her missing brother and the gorgeous cowboy on Black Claw Ranch holds the answers. Ethan's shifter instincts warn him Tansey's a terrible danger--and not just because his bear is roaring to get more of her honeyed scent.

Spurred Fate
City-girl Joss Warren has never met a man as rugged as Hunter Shaw. Joss is sure his sultry gaze promises wicked pleasure. But Hunter hides a dangerous side and Joss can't risk her fragile heart.

Breaking Fate
Sloan Kent believes in justice, for all. But when she's assigned to a new, shifter-run, Supernatural Enforcement Agency squad, she's suddenly regretting being open minded. Small town drama runs wild in Bearden and she doesn't want any part of it. She's just there to do her job… until she meets Lorne Bennett, that is.

Wild Fate
Liv has spent years putting the past behind her. After her boyfriend suddenly disappeared, she swore off love forever. Alex is in a battle with his bear and his heart. Face to face once again, nothing is the same. But with enemies closing in, he'll do anything to keep Liv safe.

Bucking Fate
Her kidnapper will kill to keep her. So will her mate. When the enemy tracks Nora to the small shifter town Bearden, sexy cowbear Jesse will salt the earth with enemy blood to protect his fated mate.
Also in this series: