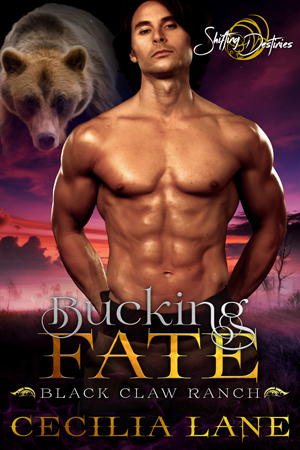 Bucking Fate
Her kidnapper will kill to keep her. So will her mate. She must decide—fight or flee.

Overcoming her torture. . .
Kidnapped and changed against her will, submissive Nora escapes to the small shifter town Bearden. There she rebuilds her courage and her shattered life.

But the kidnapper's mark prevents her from mating Jesse, a sexy cowbear as kind as he is strong.

A man who gives her the encouragement to slay her fears and take back her independence.

When her past comes howling into town, she can plant her feet and fight or she can turn tail and run—saving everyone but herself.

Guarding her from peril. . .
Under Jesse's stoic calm, the ghost of a grim childhood rages. When he meets the reserved Nora, he recognizes in her a kindred pain—and the spark of an undiscovered strength.

Strength they will need when a familiar enemy tracks her down and threatens not just her life, but their clan.

Nora's instinct is to sacrifice herself to save the clan. Jesse's is to tear down the enemy's walls and salt the earth with their blood.

Bucking Fate, book 5 in the Black Claw Ranch series, is a steamy werewolf bear shifter paranormal romance for readers who love fated mates, heroines in peril, and tortured cowboy heroes who cherish the women they love.

Download now because you love the story of two tormented fated mates healing and defeating an enemy—together.
Release Date:
July 10, 2019
Also in this series: