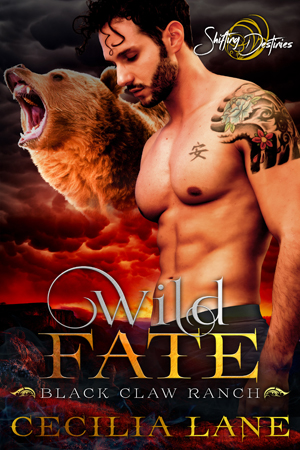 Wild Fate
One night was all it took for Alex Carter to lose his humanity.
And everything important in his life.

Alex has been a dark disaster ever since he lost her. Tearing through life on a path of self-destruction, he is fueled by one thing—revenge. His maker stole everything from him the night he left him for dead, and Alex intends to return the favor even if it costs him his life.

Wanting nothing more than to begin anew, Olivia West is thrilled to land her new position at Bearden as a geneticist studying shifters. Liv believes she's on the right path until she sees the face of the man who wrecked her for love forever—Alex Carter.

When the pair are forced to reunite after six years of separation, neither is prepared for the pain and sparks that fly. Alex and Liv are driven into each other's arms as old passions burn hotter than ever. But when Alex's maker returns to Bearden with a hunger for blood, Alex is torn between slaying the demon of his past and protecting the only woman he has ever loved.

With everything on the line, Alex must rise from his destructive past if he hopes to have a chance at redemption and save his one true mate.

Wild Fate, book 4 in the Black Claw Ranch series, is a steamy bear shifter paranormal romance for readers who love fated mates, second chances, and tortured cowboy heroes who cherish the women they love.

Download now because you love the story of two tormented fated mates finding their way back to the one that got away.
Release Date:
May 8, 2019
Also in this series: