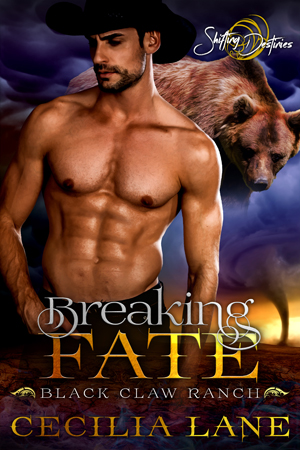 Breaking Fate
Small towns aren't for her, but he could be.

Sloan Kent believes in justice, for all. Humans and shifters alike. But when she's assigned to a new, shifter-run, Supernatural Enforcement Agency squad, she's suddenly regretting being open minded. Small town drama runs wild in Bearden and she doesn't want any part of it. She's just there to do her job… until she meets Lorne Bennett, that is.

Hard muscles ripple underneath his button-up, and that cowboy hat doesn't hide his piercing dark eyes. She knows better than to get involved with a bear, but the heart wants what it wants. Even when the heart wants a broody shifter she knows is bad news bears, literally.

He likes his women feisty and wild.
Her having a gun is just a bonus.

Lorne Bennett doesn't let anyone tell him what to do. Not his family, not his current alpha, and especially not some spitfire little human who thinks she's going to uncover all his secrets. He has good reason to keep those buried, and he owes those on Black Claw Ranch a debt for protecting his past.

But Sloan seems different, like she could be the one to put his heart back together after all these years. Being with her could be dangerous though, for both of them.

When their worlds collide Lorne and Sloan have to decide if their love really can conquer all when they're confronted with the sins of the past. And if being mates can mend their broken hearts... or shatter them forever.

Breaking Fate, book 3 in the Black Claw Ranch series, is a steamy bear shifter paranormal romance for readers who love fated mates, heroines in peril, and tortured cowboy heroes who cherish the women they love.

Download now because you love the story of two tough fated mates carving out a new future—together.
Release Date:
March 6, 2019
Also in this series: