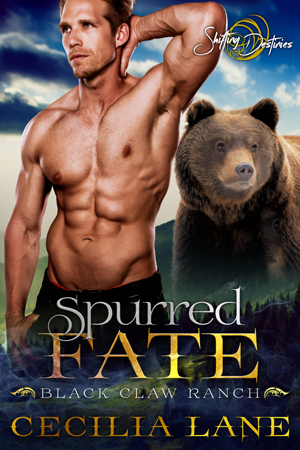 Spurred Fate
Joss Warren packs her bags to head off to the unforgiving wilds of Montana where she's got a job as the new chef of Black Claw Ranch. Secretly, she hopes to heal her broken heart and learn more about her people. She's heard about the good folks of Bearden, Montana. They are kind and generous, so people say. But her first run-in with a growly cowboy has her wondering if that's just a tall tale.

City-girl Joss has never met a man as rugged as Hunter Shaw.

Tall, tatted, and Montana-tough, Hunter made his name riding bulls on the rodeo circuit. Nowadays, the handsome cowboy wrangles cows and tourists at the Black Claw Ranch. Hunter is as wild and untamed as the Montana lands.

Joss is sure his sultry gaze promises wicked pleasure. But Hunter hides a dangerous side and Joss can't risk her fragile heart.

Hunter, a bear shifter, understands horses and hard work. Not women. He's had his heart broken and stomped on one too many times. But there's something about the pesky, smart-mouthed red-head that wakens his bear. She's wary though. The gorgeous, curvy girl is afraid.

Of him.

And maybe for good reason. If he were a gentleman, he'd give his skittish girl some room. And maybe he is a gentleman, but now's not the time to find out. When traffickers stalk his pretty little mate, his animal ditches all good manners.

His snarling bear is ready to mate, ready for cubs and family. He vows to hunt down any threat to keep his female safe...

Spurred Fate, book 2 in the Black Claw Ranch series, is a steamy bear and badger shifter paranormal romance for readers who love fated mates, plucky heroines, and tortured cowboy heroes who cherish the women they love.

Download now because you love the story of two fated mates determined to find their places in the world—and with each other.
Release Date:
January 9, 2019
Also in this series: