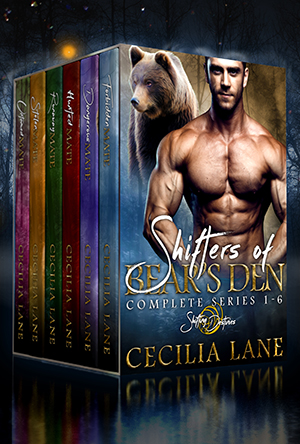 Shifters of Bear's Den Complete Series
Snarling shifters. A secretive town. Six growly bears claim their fated mates.

Forbidden Mate
Leah lives a life haunted by secrets. She can't stay in one place for long, even if bear shifter Callum's slow, sexy smile and quiet strength make her yearn for more. As Leah's secrets unravel, danger looms over her and all of Bearden. Can the alpha bear keep his people safe, especially the woman who is fated to be his?

Dangerous Mate
Rylee doesn't have time for distractions or bossy bodyguards, even if they're tall, dark and gorgeous. She's determined to ignore the tension sizzling between her and gruff bear shifter Cole, but it grows harder to resist his charm as one wicked-hot kiss leads to another. While Rylee and Cole fight their attraction, sinister forces gather in the town of Bearden.

Hunted Mate
No one could call fox shifter Becca fragile. She's been to hell and back and got the t-shirt, thank you very much. After experiencing a tragic loss and the abandonment of her mate, she left Bearden and vowed never to return. Only, fate had a different plan in mind and Nolan's bear will no longer be denied.

Runaway Mate
Meghan's on the run, hiding from a vengeful ex-fiance after she dumped him at the altar. Just when her heart is on the edge of loving an untamed shifter, danger looms, threatening all she holds dear. The only one who can save her is a wild and feral bear.

Stolen Mate
Everly's terrible, no-good day starts with defying her alpha's plans to mate her to make little black panther heirs. Everyone thinks Sawyer is steady and gentlemanly, but that ends when he hauls the curvy blonde to his cabin for some neighborly protective custody. To keep from returning to her alpha, Everly claims she's already married. To Sawyer.

Untamed Mate
Mara flirted with darkness to save her family. Now, locked in a cell, she struggles to atone for her crimes. Will a hulking bear shifter and a mission to save missing children be her chance for redemption?

The Shifters of Bear's Den Complete Series collection is for readers who enjoy steamy paranormal romance novels filled with intense action, sassy heroines, and broody bear shifters hot enough to melt your heart. Download now because you love forbidden romances, second chances, and happily-ever-afters.
Release Date:
September 10, 2019
Also in this series: