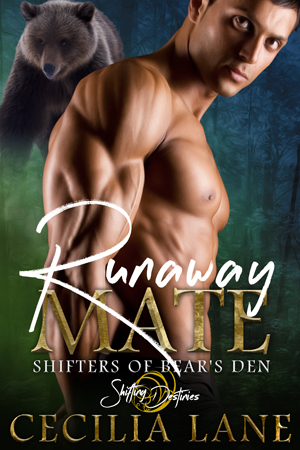 Runaway Mate
A bear prowling the edge of danger.

Gray Jennings has a problem. One that could get him put down by his alpha. It started when a rogue military commander laid siege to the town of Bearden and months later, Gray is still shifting in his sleep. His lack of control marks him as a hazard to both humans and other shifters.

He's being watched.

He knows the danger he poses.

So when rich girl Meghan Wilcox comes to town, he vows to stay far away. The last thing Gray needs is a distraction. Even if Meghan's curves and fragile beauty bring out his protective nature.

But the girl's got a secret and worse, her sweet scent stirs his angry bear.

A girl hiding from her enemies.
Meghan's on the run, hiding from a vengeful ex-fiance after she dumped him at the altar. He's humiliated and hunting for her, intent on payback. Out of sheer desperation she seeks safety in the small town of Bearden. Tucked away in a secret cabin, Meghan feels the glimmers of hope. Finally. But a new threat soon arrives in the shape of a terrifying shifter.

A bear who has shifted in his sleep. Gray Jennings.

Meghan gentles him and they form a tentative truce. A bond links her to the formidable shifter, but he's savage and unpredictable. Has she traded one danger for another?

Meghan's past won't stay quiet. Just when her heart is on the edge of loving this untamed shifter, danger looms, threatening all she holds dear. The only one who can save her is the wild and feral bear.

Gray Jennings...

~~~
Step into the world of Shifting Destinies, where the men and women you meet might just be a little more than human. Their towns are protected by magic, and their hearts are open and ready for love. But watch your step - more than darkness lurks in the shadows.
Release Date:
May 9, 2018
Also in this series: