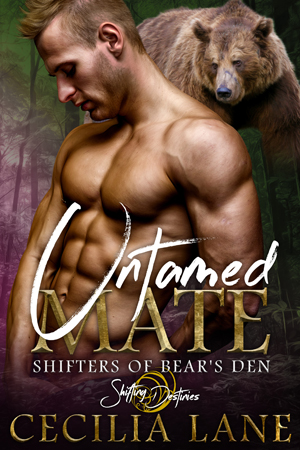 Untamed Mate
A Lioness in Peril.

Three years ago, Mara watched helplessly as hunters killed her brother. The men promised not to harm others if she complied with their evil demands. Now, she's serving time in a cell beneath Bearden, trying to atone for the crimes they forced her to commit.

Mara's penance brings her face to face with a fierce and rugged and heavily tatted bear shifter, Hudson Vaughn.

He stirs all sorts of feelings inside her. Desire. Yearning. Need. But now is not the time for that foolishness. The hunters have returned. Their demands are even more sinister. They want shifter children, and they want her too.

Mara intends to confront the hunters. Alone. But Hudson has a different plan...

Together they'll attend a shifter auction, posing as handler and leashed pet. It's all just a fake act. A ploy. And her yanking his leash and taunting him is part of the act too. It's working fine. Right up until the end of the night when all pretense falls away, the lights dim and the growly bear-shifter crowds her into a corner and makes a promise...

I don't need my bear to make you submit, kitty...

Hudson Vaughn has a plan to set his mate free. First, he must convince Mara they're fated to be together. Then, he needs to convince her he'll protect her from every threat. Even the shifter-traffickers that murdered her brother.

What starts as a plan to infiltrate the hunters' auction, becomes something so much more. Mara poses as his handler, but she seems to enjoy her role a little too much. The entire evening, she delights in snapping his leash and full-on flirting with him. None of that was part of the plan.

Little tease.

His mate has a wild side. A naughty side he never imagined, but one he likes very much. His bear snarls and snaps, hungering to make Mara his.

Hudson must destroy the evil forces that stalk Mara, so he can finally claim his sassy, curvy fated mate...

~~~
Step into the world of Shifting Destinies, where the men and women you meet might just be a little more than human. Their towns are protected by magic, and their hearts are open and ready for love. But watch your step - more than darkness lurks in the shadows.
Release Date:
September 5, 2018
Also in this series: